Portions of our website will be temporarily unavailable on January 19 for maintenance. Please call us at 1-800-493-6437 or email [email protected] for immediate assistance.
Security Panels and Doors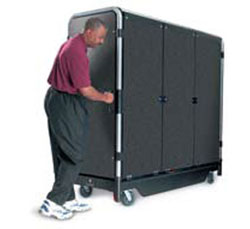 Overview
Enclose the sides and ends of your carts with theft-resistant, extra thick panels. Closures can be customized with a variety of laminates and colors providing excellent space for team logos. As an option, lockable sliding doors are available for added security. Talk to your Wenger rep for information on colors and laminate choices.
The Wenger Advantage
Economize Space - GearBoss systems can store twice as much equipment in the same volume of space by reducing aisles and economizing cubic storage space.
Flexibility - GearBoss carts can be rearranged and reconfigured as often as you need.
Security and Organization - Improve security, inventory control and oversight with a locked and organized room.
Show your Pride - Every space is a reflection of your program and with GearBoss organization and school colors you can take pride in your equipment room.
Usage
The GearBoss® End closures, Side Closures and Bypass Door Accessories are intended for indoor use in normal ambient temperature and humidity conditions-they must not be exposed to prolonged outside weather conditions.
The GearBoss End closures, Side Closures and Bypass Door Accessories are intended to be used by the customer to accessorize their GearBoss carts and to add levels of security and aesthetic finish.
Solid End Closure Panel
Adds a level of security to carts
Provides an excellent space for team logos
Can be ordered in a variety laminate colors
Made from solid 5/8" MDF with black polyester edge banding
Shipped ready-to-assemble
240A063 Cart End Closure, 32"

Dimensions: 27¼" (692.15 mm) x 64.31" (1633.47 mm) Approximate Weight: 25 lbs. (11.3 kg)
240A064 Cart End Closure, 48"

Dimensions: 43¼" (1098.55 mm) x 64.31" (1633.47 mm) Approximate Weight: 48 lbs. (21.8 kg)
Side Closure Panel
Securely closes one side of cart opposite open side or opposite a bypass door adding a level of security to carts
Can be ordered in a variety laminate colors
Made from solid 5/8" MDF with black polyester edge banding
Shipped ready-to-assemble
Dimensions: 65 (1651 mm) x 73 (1852.2 mm)
Approximate Weight: 75 lbs. (34 kg)
240A025 Cart Side Closure
Bypass Door
Easy glide aluminum track provides convenient access
Lockable sliding doors for added security
Can be ordered in a variety laminate colors
Made from solid 5/8" MDF with black polyester edge banding
Shipped ready-to-assemble
Dimensions: 65 (1651 mm) x 73 (1852.2 mm) Approximate Weight: 86 lbs. (39 kg)
240A041 Bypass Door Accessory
Additional Information