Portions of our website will be temporarily unavailable on January 19 for maintenance. Please call us at 1-800-493-6437 or email [email protected] for immediate assistance.
GearBoss® Team Carts
Mobile, high-density athletic equipment storage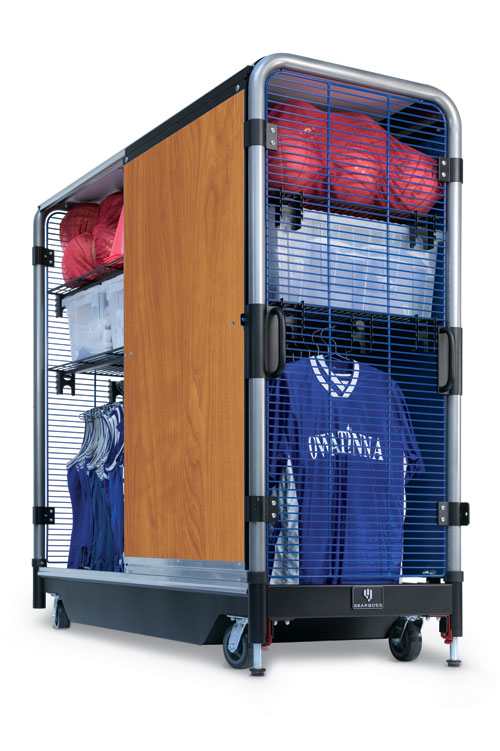 Mobile, high-density athletic equipment storage
Now it's easy to get your equipment out of storage and to the gym, practice area, parking lot or sidelines – without breaking a sweat. GearBoss Team Carts retain all the convenient storage benefits of X-Carts but are engineered to leave the track. Imagine all your gear organized on one or two high-density storage carts, traveling wherever it needs to go – and back again. Or park and lock your equipment in a temporary space, instantly creating safe, secure storage anywhere.
The Wenger Advantage
Economize Space – GearBoss Systems can store twice as much equipment in the same volume of space by reducing aisles and economizing cubic storage space.
Flexibility – GearBoss carts can be rearranged and reconfigured as often as you need.
Mobility Made Easy – Team Carts roll right off the GearBoss track and can move an entire closet worth of equipment down the hall.
Security and Organization – Improve security, inventory control and oversight with a locked and organized room.
Show your Pride – Every space is a reflection of your program and with GearBoss organization and school colors you can take pride in your equipment room.
Usage
Easy to use, easy to access, efficient storage system can handle all of your uniforms and gear.
Additional Information

Construction
Available in two widths 32" (81 cm) and 48" (122 cm)
32" (81 cm) wide x 78" (198 cm) long x 79" (201 cm) high
48" (122 cm) wide x 78" (198 cm) long x 79" (201 cm) high
Roller guides follow the track keeping the units aligned and are made of glass-filled nylon
Intended for indoor use in normal ambient temperature and humidity conditions — must not be exposed to prolonged outside weather conditions
Welded chassis made from 16-gauge, 14-gauge and 12-gauge components
Upright support tubes constructed from large 2" (5 cm) diameter,
16-gauge steel tubing
Resistant-welded heavy-duty steel wire grille end frames. 1" grid openings
Durable powder-coat paint finishes. Variety of colors available for wire grille ends
Heavy-duty 6" (15 cm) swivel casters provide easy movement
Roof panel constructed from solid 5/8" (1.5 cm) thermofused wood composite and with aluminum extrusions is rated for a 150 lb (67.5 kg) load
Please call your Wenger representative for consultation.