Portions of our website will be temporarily unavailable on January 19 for maintenance. Please call us at 1-800-493-6437 or email [email protected] for immediate assistance.
Nota® conBRIO® Premier Chair
The dynamic and responsive music practice and performance chair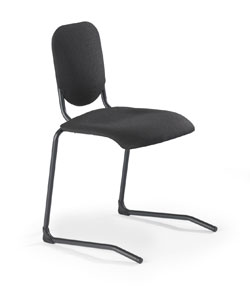 Available in many colors

Colors shown are approximations and may vary on your screen. Please request a swatch from your Wenger rep.
The dynamic and responsive music practice and performance chair
An innovative new design that allows the chair to respond to the movement of the musician. The result: more dynamic play, improved blood flow, and more focused attention. The design is based on years of customer research and consultation with medical experts. The Premier Chair features high-quality padding and upholstery providing maximum comfort. The unmatched quality construction guarantees a long life that delivers an unequaled return on your investment.
The Wenger Advantage
Nota Design Enhanced – Cantilever frame adds an element of dynamic mobility
Improved Postural Response – The musician's entire body is fully engaged in their performance.
Greater Focus, Less Tension – Motion facilitates, not inhibits, attentiveness and improves circulation.
Better Protection of Musical Instruments – The rounded and refined design is not just for a unique aesthetic, it also helps protect valuable instruments from scratches.
Options for Every Program and Environment – Available in a variety of colors, heights and finishes. A complete line of accessories are also available.
Usage
Premier chairs are for professional or higher-education environments that require extended practice and performance sessions.
Storage
Sizing Chart
Due to the variation in body shapes and sizes, Wenger recommends purchasing a mix of different height chairs in order to accommodate all of your musicians. In most cases, the 80/20 rule applies and classrooms that have a large number of students, should purchase 80% of the mid-range height and 10% of the higher height and 10% of the lower height. Please contact your Wenger representative for further information on chair heights and recommendations.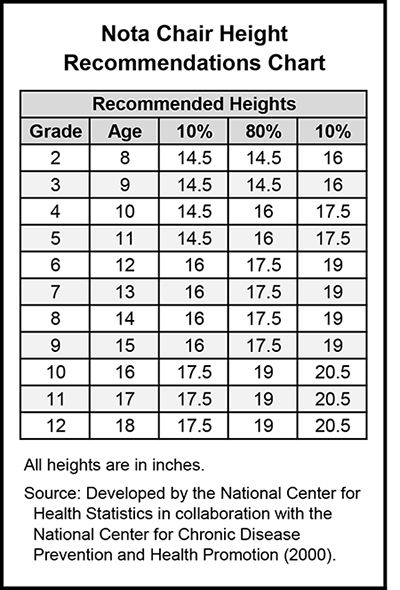 Additional Information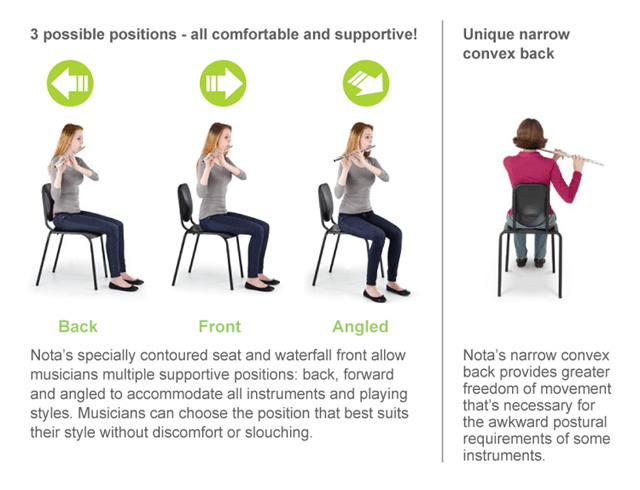 Construction
Dynamic frame allows more freedom of movement
Narrow convex back allows greater range of movement
Rounded waterfall front accommodates a wider range of body sizes
Padded and upholstered for added comfort
Powder-coat paint finish for maximum durability. Chrome also available
Durable, specially designed floor glides provide stability when seated and ease of movement when arrangig chairs
Specially designed stacking bumpers provide maximum stability and protection when chairs are stacked
12-gauge steel frame for extreme durability
Testimonials
I was very impressed with the Nota® conBRIO® chair because it gives the flexibility for a musician to move, but also gives the necessary support. I teach a musician's wellness class where we discuss ergonomics and posture. This chair has everything you want in a performance chair.
I loved it from the first moment I sat in it. With other chairs I have to adapt to fit the chair, but this chair fit me. It definitely provided flexibility and support without any cumbersome limitations to body movement. Your legs can move, your upper body can swivel or sway. I felt more connected to my feet and core muscle groups, which supports proper breathing and better music-making. The cantilever design also gives a lot more room for my legs.
When ordering chairs, please specify the following:
Size: 14½" (37 cm), 16" (40.5 cm), 17½" (44 cm), 19" (48 cm), or 20½" (52 cm) seat-to-floor frame height.
Frame finish: Black or Chrome
Seat/back: Choose from colors shown. Samples are available upon request.