The dynamic and responsive music practice and performance chair
An innovative new design that allows the chair to respond to the movement of the musician. The result: more dynamic play, improved blood flow, and more focused attention. The design is based on years of customer research and consultation with medical experts. The unmatched quality construction guarantees a long life that delivers an unequaled return on your investment.
The Wenger Advantage
Nota Design Enhanced – The patented cantilever frame adds an element of dynamic mobility to music practice and performance.
Improved Postural Response – The musician's entire body is fully engaged in their performance.
Greater Focus, Less Tension – Motion facilitates, not inhibits, attentiveness and improves circulation.
Better Protection of Musical Instruments – The rounded and refined design is not just for a unique aesthetic, it also helps protect valuable instruments from scratches.
Options for Every Program and Environment – Available in a variety of colors, heights and finishes. A complete line of accessories are also available.
Usage
The Standard is for all music environments, including practice and rehearsal rooms, and performance areas.
Storage
Sizing Chart
Due to the variation in body shapes and sizes, Wenger recommends purchasing a mix of different height chairs in order to accommodate all of your musicians. In most cases, the 80/20 rule applies and classrooms that have a large number of students, should purchase 80% of the mid-range height and 10% of the higher height and 10% of the lower height. Please contact your Wenger representative for further information on chair heights and recommendations.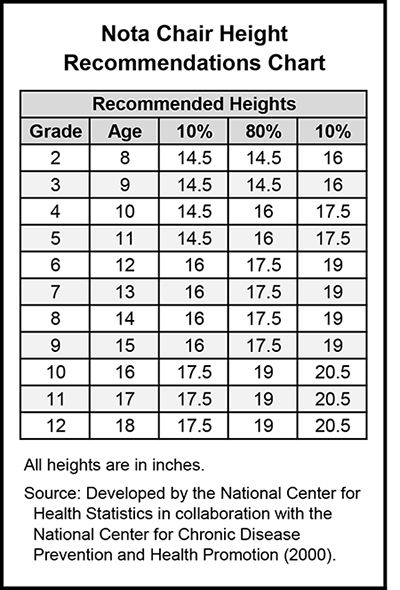 Additional Information