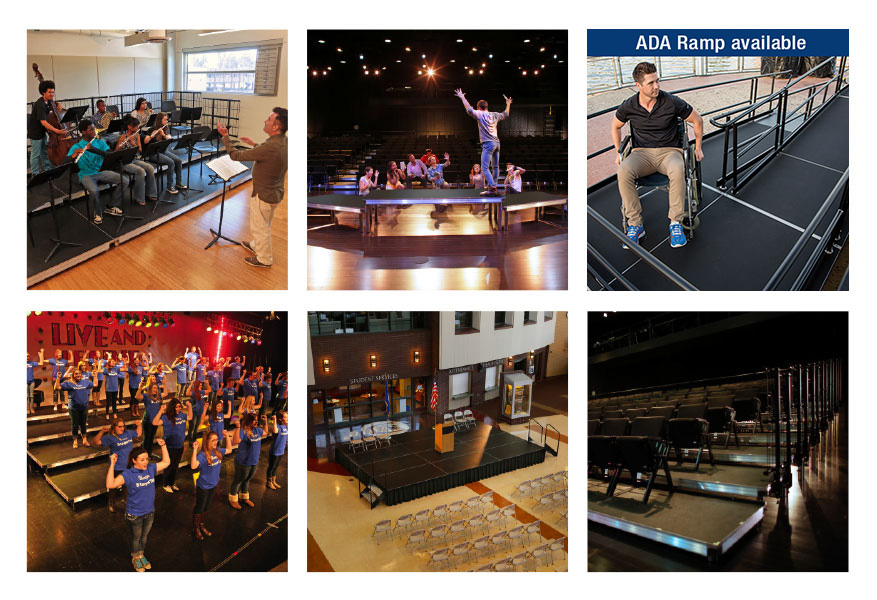 SO MANY USES
When a staging system is designed to set up this easy and fast, your staff will find even more uses for it. So StageTek can go from a classroom to the gym to the atrium, to the theater, to outside to wherever. And that stretches your stage investment further than you ever thought possible.
VERSATILITY, SPEED AND SAFETY
StageTek was engineered not only to provide strength that few stages can match, it sets up incredibly fast and easy without training or tools. Those qualities mean you can trust StageTek to be a safe, reliable platform for all your events each and every time you reconfigure it.
Effective: January 1, 2019 - April 30, 2019. Orders must be received by 4/30/19 and must ship by 5/31/19. Discount taken from 2019 Catalog price. Call for pricing. * 30% discount applied to StageTek accessories when a deck purchase is made at the same time. **To earn a free StageTek Move and Store Cart you must purchase a minimum of six StageTek decks. You can receive a free cart for every six decks purchased. Buyer is responsible for shipping and handling costs of free carts. Not valid with other discounts or promotions. This promotion is effective for U.S. Customers only and prices are calculated in U.S. Dollars. Pricing does not include freight, import duties and relevant country taxes.