Portions of our website will be temporarily unavailable on January 19 for maintenance. Please call us at 1-800-493-6437 or email [email protected] for immediate assistance.
Trouper® Seated Risers
Safe, solid and economical seated risers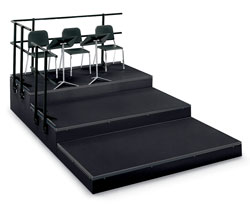 Safe, solid and economical seated risers
Trouper seated risers are your best, most economical option for creating any riser configuration. They install quickly and easily, and promise stable, reliable, durable performance year after year. Trouper's fold-out design and selection of deck shapes in a variety of heights gives you the freedom to arrange your risers for a variety of needs.
The Wenger Advantage
An Intuitive Fast Setup – It doesn't get any easier than Trouper's fold out legs.
Safe and Solid – A load rating of 200 lbs per sq ft.
Cost Effective – Trouper is the proven value in the market for seated risers.
Usage
Create solid, versatile, multi-level seated riser structures for choirs, bands and orchestras.
Additional Information

Construction
Full array of pies and tri-corners enables you to configure a set that meets virtually any seated riser application
Choice of 2-tier, 3-tier, or 4-tier sets helps you configure for your specific group and room size
Optional band/orchestra rear percussion extension
Four standard deck sizes and elevations with optional dual-height fold-out legs offer flexibility to reconfigure your staging system
Each deck has six points of contact with the floor for added stability
Six fixed- or dual-height fold-out legs with six contact points ensure extremely quiet, no-rattle performance
Load rating meets or exceeds building code requirements Trouper® Staging
Sturdy 16-gauge steel frame caps and protects surface finish on ¾" (19 mm) plywood deck
Deck finish options include: Standard surface Black (Moroccan); or Grey carpeted surface
Optional Move & Store Carts, skirting, stairs, and guardrails are also available.
Testimonials
The Trouper Risers offer wonderful flexibility for adjusting the number of students on them – not all seated risers do. As our program grows, we'll buy pie sections and fan out our horseshoe shape. I like that ability a lot.
Seated Risers come in a wide variety of configurations and sizes. Please call your Wenger representative so that we can first thoroughly understand your needs in order to provide the best solution and an estimate to help you budget your investment.
Seated Riser Sets
Band/Orchestra seated riser decks are 4' (1.2 m) deep.
Choral seated riser decks are 3' (0.9 m) deep.
Sets are available in 2-tier, 3-tier, and 4-tier configurations.
Optional rear extension units are available to add extra depth for percussion or a 4th level; units are 3' (0.9 m) or 4' (1.2 m) deep.