Mobile, secure instrument storage for acoustic and electric guitars
Wenger's mobile Guitar Storage Rack provides exceptional protection for acoustic and electric guitars, cased and uncased, three-quarter and full-size, even guitarrons. They also move easily anywhere in your facility, so you not only have the ideal storage solution for your guitars, but you also have the best means possible to make sure those guitars get around and get played.
Usage
Protection and transportation for up to 20 electric or acoustic guitars, or up to 10 Mariachi guitars and guitarrons.
Accessories
Guitar Rack Yoke Security Cables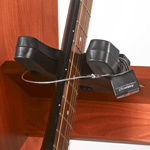 Protect your string instrument investment with our Security Cables
Cables easily attach to the yoke of the Wenger Guitar Rack and wrap over neck of the guitar
Cables come in packs of 10.
Padlock not included. The cable fits a pad lock that is 1/2" (13 mm) wide, 5/8" (16 mm) tall with a 3/16" (5 mm) maximum diameter shackle, such as the Masterlock 131 Series.
Note: this cable is not compatible with older models of the Wenger Guitar Rack.
Available in a Variety of Colors

Colors shown are approximations and may vary on your screen. Please request a swatch from your Wenger representative.