Portions of our website will be temporarily unavailable on January 19 for maintenance. Please call us at 1-800-493-6437 or email [email protected] for immediate assistance.
Platinum Reversible Board
Overview
Provides twice the functional surface of any traditional wall- mounted board. Rotates 360 degrees. Surface locks securely in place. Environmentally friendly and easy to move.
Usage
Ideal for presentations, meetings, classrooms, and other group instruction
Performance Requirements
Options include porcelain steel on both sides, porcelain steel with music staves, or porcelain steel with cork tackboard
Porcelain steel is magnetic for even more versatility
Environmentally friendly – No VOC's (Volatile Organic Compounds)
Steel is made from 30% post-consumer and post-industrial waste
Surface is 99% recyclable
Additional Details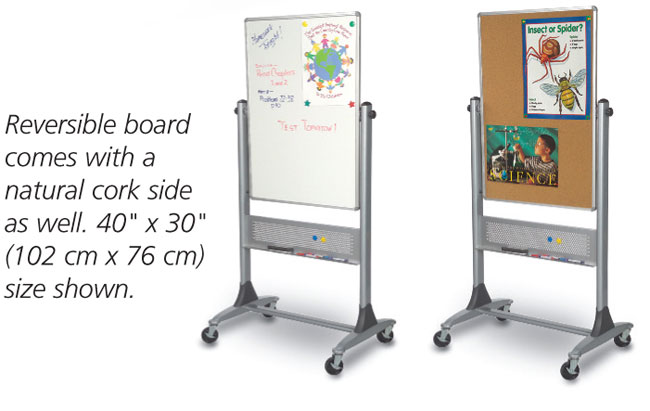 Construction
Wide base design and 3" (7.5 cm) locking casters provide safety, stability and mobility
Porcelain Both Sides
174A300.50 40" x 30" (102 cm x 76 cm) Platinum Reversible Board
72 lbs (33 kg)
174A300.60 4' x 6' (122 cm x 183 cm) Platinum Reversible Board
186 lbs (85 kg)

Porcelain/Natural Cork
174A300.51 40" x 30" (102 cm x 76 cm) Platinum Reversible Board
68 lbs (31 kg)
174A300.61 4' x 6' (122 cm x 183 cm) Platinum Reversible Board
166 lbs (76 kg)

Porcelain/Porcelain with music staves
174A300.52 40" x 30" (102 cm x 76 cm) Platinum Reversible Board
72 lbs (33 kg)
174A300.62 4' x 6' (122 cm x 183 cm) Platinum Reversible Board
186 lbs (85 kg)