An ergonomic music classroom workstation that holds your electronic piano keyboard, rack mounted components, speakers and computer
Our new Select Workstations have been ergonomically designed to be more comfortable by positioning music and computer equipment in an environment where everything is within easy reach. Wenger workstations give you plenty of workspace and also help hide all your wires and cabling. The pull-out shelf is wide enough for a computer keyboard and even a piano keyboard.
Optional features allow you to create the right solution specific to your needs and equipment. The Select Lab Workstation is available in 50" or 62" widths (1270 or 1575 mm). You can choose a fixed height or the flexibility of our adjustable height model. Have rack-mount components? You can order in 2-unit increments (up to 8). Many accessories available as well.
The Wenger Advantage
Spacious - Users love the wide open freedom. There's plenty of room for a big keyboard and all the other lab tech you want. The expansive desk and shelves allow comfortable spacing for all your hands-on equipment.
Technologically Savvy - These forward-thinking designs keep all your equipment connected, with dedicated spaces in the perfect spot. There's even a system to keep all your cables and cords neatly concealed, but within easy reach.
Mobile and Adjustable - Choose the options that are right for you. Fixed height or adjustable height. 50" (1270 mm) wide or 62" (1575 mm) wide for 88 key - keyboards. Rackmount shelf option and multiple accessories to choose from.
Usage
For music education classrooms where ergonomics, organization and functionality are a must.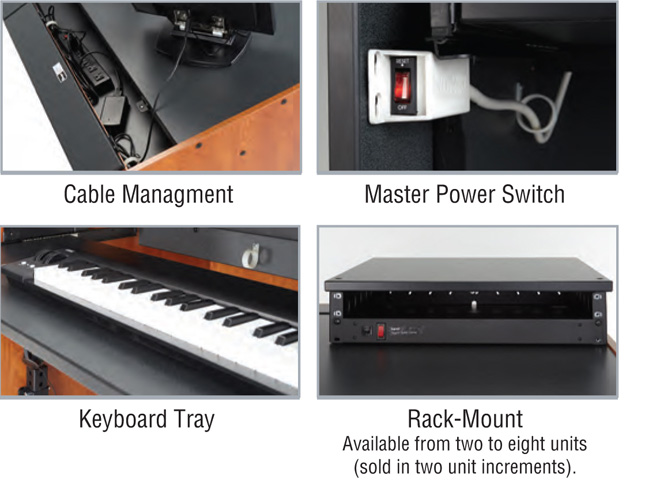 Accessories
Music Holder
Powerstrip Options &nnbsp; - 8-outlet, 15-amp with remote master power switch on 6' (1829 mm) cord with sound dampening and surge protection
- 6-outlet power strip with switch (no surge protection)
- outlet rack-mount power strip

Rack-mount and shelf - Available in 2 unit increments

Bottom shelf is optional in fixed height only, (adjustable is required)