The mobile classroom teaching and storage cart for music or other use
You have teaching tools you need to move from place to place and we have the one product that makes it perfectly easy. Wenger's teacherTAXI® is engineered with an easy-grip handle and smooth-rolling design that makes transitional teaching more convenient than ever. Roll it down halls, around corners, through tight doorways. It's fast and nimble on the go and a huge help in the classroom, with plenty of storage space and easy accessibility to all your essentials. Books, instruments, sheet music, AV equipment, theatre gear, paint, brushes, markers, crayons, paper – whatever your tools and whatever you teach, Wenger teacherTAXI is the safe and secure way to move them wherever you need them to be.
Usage
The ultimate solution for transporting all your teaching essentials from room to room, floor to floor, even building to building, with special features that make it ideally suited to any teaching curriculum.
Performance Requirements
Easy to move for any student or adult, even when fully loaded.
All-terrain wheels for exceptional, goes-anywhere maneuverability.
Static rear wheels ensure straight tracking down narrow hallways.
Ergonomically designed with top surface at the ideal working height of 34-1/2" (876 mm).
Three tiered, stepped shelves allow easy access.
Notes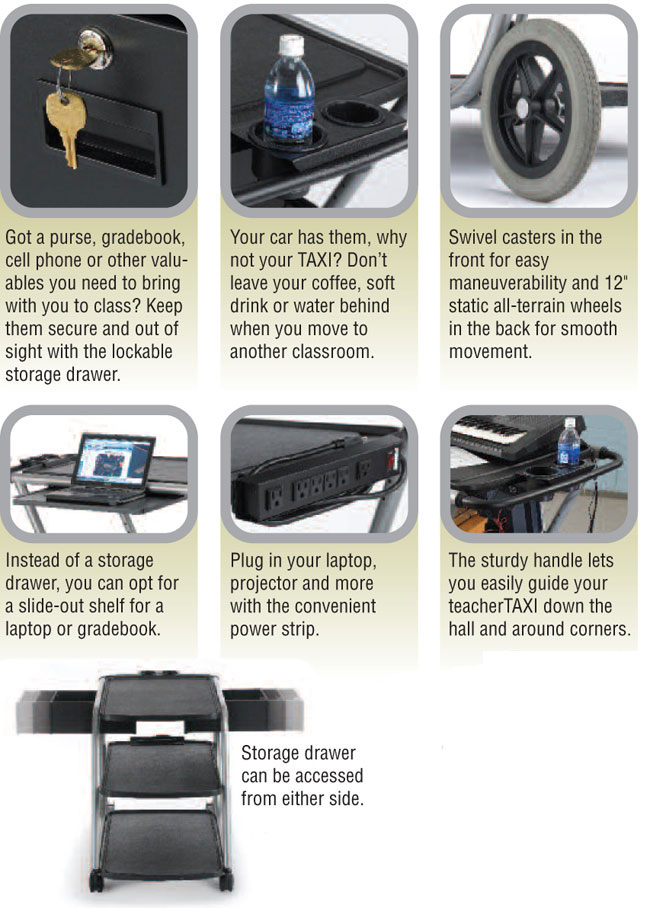 Bins