Portions of our website will be temporarily unavailable on January 19 for maintenance. Please call us at 1-800-493-6437 or email [email protected] for immediate assistance.
Diva® Acoustical Shells
Portable, full-stage acoustical shells for schools and performing arts centers
Portable, full-stage acoustical shells for schools and performing arts centers
An investment in Diva acoustics will reward you the first time you hear the remarkable difference. Diva is a beautiful centerpiece for your stage that is engineered to last for years and years.
Diva is also incredibly easy to use, so you can use it more often. No other acoustical shell gives you so much long-term value.
Diva full-stage acoustical shells are now available with the Wenger Lieto™ fixture. Lieto is the first LED fixture specifically designed for full-stage acoustical shells. Learn more about Lieto.
The Wenger Advantage
Lightweight Extruded Aluminum Tower and Ceiling Frames
Air Mover
Self Lubricating Hinges
Ceiling Performance Angle Adjustment
High Grade Wood Veneers
Our Extensive Product Knowledge and Experience
Usage
Beautiful, full-stage acoustics for optimum on-stage sound and excellent sound projection to the audience
Diva® Installations Around the World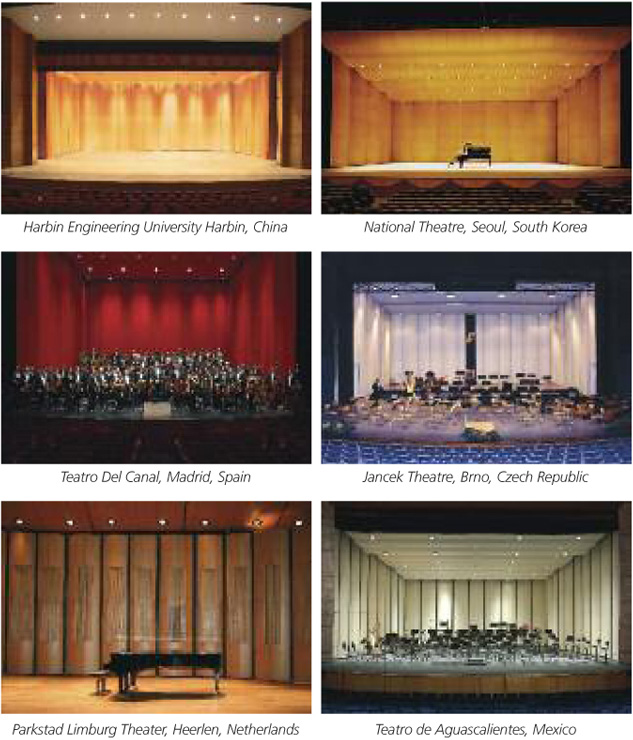 Details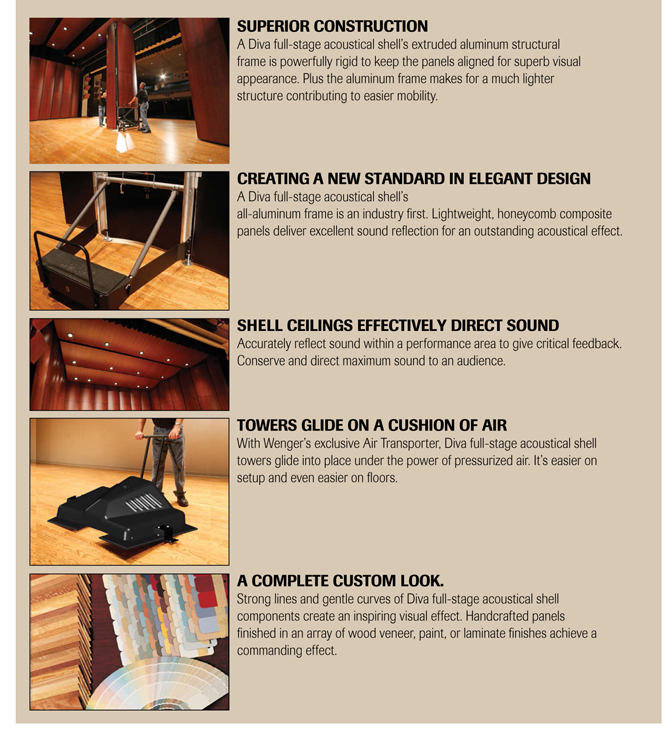 Construction
Lightweight construction with the industry's first all-aluminum frame
Safe, easy setup with the exclusive Air Transporter (manual mover also available)
Built-in leveling pads
Shell ceiling panels raise and lower with stage rigging and can be flown in the fly loft when not in use
Panels rotate easily into position
Panel angles adjust quickly
Modular design accommodates everything from full orchestras to string quartets
Wood veneer, laminate, and painted finish options
Handcrafted composite panel construction
Lower wing sections open creating access doors
Counter-weighted base for superior stability
Designed to accommodate your specific space
Stores compactly
Testimonials
When replacing our original Wenger shell, we considered its longevity and the company's excellent reputation. Technology improvements mean our new Diva shell is easier to set up, take down and put away. The installation process went very smoothly - the Wenger crew was great.
The Diva is a wonderful system that works really, really well. We've gotten a very favorable response from our users. It's also beautiful to look at.
Many sizes and options available.
Please call your Wenger representative for consultation.