Portions of our website will be temporarily unavailable on January 19 for maintenance. Please call us at 1-800-493-6437 or email [email protected] for immediate assistance.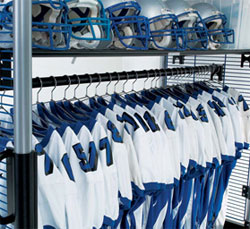 Overview
One garment bar can support 150 jerseys. Made of powder-coated 1½" sturdy steel tubing, garment bars stretch the length of the cart to accommodate hangers for uniforms, jackets, and more. And just like our shelves, the garment bar are vertically adjustable in 1" increments.
Usage
The GearBoss® system is intended for indoor use in normal ambient temperature and humidity conditions - components must not be exposed to prolong outside weather conditions.
Attics are designed only to be used on the 48" (1219.2 mm) X Cart.
Construction
Designed to be installed into the GearBoss® X Carts or Team Carts using two accessory hanger brackets.
The Truss Bar is designed to be used with shoulder pad hangers and helmet hangers.
The double-bar construction reduces the swinging motion of hanging equipment.
The Garment Bar is designed to be used with standard garment hangers, support up to 150 jerseys.
Durable powder paint coat finish, black.
Shipped ready to be installed, no tools required.
240A028, Truss Bar, 1½" (38.1 mm) x 4" (101.6 mm) x 75¾" (1924 mm) long. 200 lbs (90.7 kg) load rating.
240A047, Garment Bar, 1½" (38.1 mm) diameter x 75¾" (1924 mm) long. 100 lbs. (45.4 kg) load rating.