Portions of our website will be temporarily unavailable on January 19 for maintenance. Please call us at 1-800-493-6437 or email [email protected] for immediate assistance.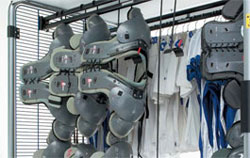 Overview
Shoulder Pad Hangers let you access pads like shirts in a closet. Hangers come in two lengths and are best supported by our sturdy Double Truss. Hangers are great when there is a little more storage capacity because they encourage better air flow around pads, improving drying, sanitation and odor. In addition, they offer the convenience of easy access to any pad at any time. Long and short pad hangers can be alternated to support 30 shoulder pads for each Double Truss.
Construction
Designed in short and long versions.
Designed to be used with the Truss Bar, 15 shoulder pad hangers of each size per Truss Bar (30 total)
Welded construction using .313" (7.95 mm) wire and 12 gauge formed plate.
Powder paint coat finish, black.
240A069, Shoulder Pad Hanger, short. Approximate weight, 1 lbs (.5 kg)
240A070, Shoulder Pad Hanger, long. Approximate weight, 2 lbs (.9 kg)