Portions of our website will be temporarily unavailable on January 19 for maintenance. Please call us at 1-800-493-6437 or email [email protected] for immediate assistance.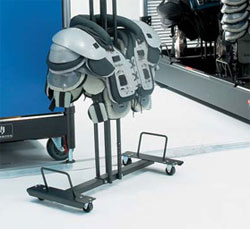 Overview
There simply isn't a better way to store and move lots of shoulder pads. Made of durable steel tubing, each stacker can accommodate 20-25 pads compactly stored. GearBoss® Stackers feature four heavy-duty built-in wheels to easily take the pads to the players. In addition, stackers feature an adjustable shoulder form so that pad shape is preserved while in storage. Think of the convenience. With four stackers on a 32" cart, you will have over 80 pads stowed away yet ready to roll.
Usage
The GearBoss® Shoulder Pad Stacker Accessory is intended for indoor use in normal ambient temperature and humidity conditions – it should not be exposed to prolonged outside weather conditions.
The Wenger High Density Sports Storage System Shoulder Pad Stacker Accessory intended use is with the 32-inch X Carts and Team Carts or as a stand-alone shoulder pad storage and transportation device.
The Wenger High Density Sports Storage System Shoulder Pad Stacker Accessory is not intended to be used with and will not work with Carts equipped with the Side Closure Accessory or the Bypass Door Accessory.
Construction
Designed to store and or transport approximately 18-25 shoulder pads depending on pad style
Support tubes constructed of durable ¾" x 16 gauge steel tubing.
Specially molded support preserves pad shape.
The molded support is vertically adjustable to accommodate pads with shallow or deep chest protection
Durable powder paint finish, color black.
Equipped with wheels, for mobility, when used as a stand-alone device.
Overall dimensions, 31-21/32" W x 64¾"H.
Shipped ready-to-assemble with detailed instructions.