by Wenger Guest Author, Ryan M. Hare, Composer
---
WHY COMMISSION A NEW PIECE OF MUSIC?
There are many good reasons to want to commission a new musical work from a composer, and as far as I know, no bad reasons. Well, o.k.: I suppose it would be bad to commission a work from a better composer to pass off as if it were your own, like the Salieri character in Amadeus did. Don't do that. But let's focus on the good reasons.
The classical music world is overwhelmingly—and some might say unhealthily—dominated by music by dead composers. We accept that past generations had their Mozart, their Beethoven, their Brahms. If we don't commission the composers living among us today, we're on some level deciding that our generation doesn't deserve to have our own Mozart. And here's the thing: the composers who music we cherish the most now didn't compose their music out of nowhere, from nothing. On the contrary, they mingled with and learned from numerous peers and colleagues. Most of these other composers' music is forgotten, the vast majority of it, but those composers and the people who supported them were part of a culture that was looking for new music all the time. In commissioning a piece of music from a composer, you're not actually in the first place assuming you're creating a new Mozart; what you're doing is helping create a culture where a Mozart is possible at all! (Side note: let's not forget that most of the composers whose work we cherish today were not the most famous or popular composers of their day.)
A simpler reason even than that, though, is that you have a friend or colleague who is a composer, and you like their music or you wish to support their career. It really is that simple!
---
HOW DO I GET STARTED COLLABORATING WITH A COMPOSER?
The question, then, is how does this work? First thing to do: let the composer know that you'd like a piece from them! Very likely they can guide you through the commissioning process. Speaking for myself, I enjoy collaborating with would-be commissioners! Most composers do, so don't be shy about wanting a new piece.
Then, don't be shocked by the fee.
There is no set fee for commissioning music. It will vary greatly based on how busy the composer is, how prestigious their career is, the scope of the project, how interested they are in the idea in the first place, and probably a host of other concerns. But it likely won't be cheap, and it shouldn't be: you're not ordering a latté you consume in a quarter of an hour, you're helping set in motion the creation of a work of art that might (might!) endure for many generations to come. It also might be forgotten immediately; that's the risk one takes. (Please remember the comments I made above about contributing to a culture, one that promotes art and enables someone like Mozart…) Note that the commission fee isn't necessarily just about money; other components can include guaranteed recordings, a premiere at a high-profile performance venue, a promise the piece will be played on tour, or something else entirely: something of value that isn't just monetary.
---
FINDING FUNDING FOR YOUR COMMISSION
Paying for the fee then is the question. There are many answers. I, for one, never expect working-class musicians or people of lower income to cover my fee by themselves, unless they really want to and definitely aren't struggling to make ends meet, like most musicians are, sadly.
One idea that is often successful is to build a consortium; that is, solicit a number of performers or ensembles represented by the commission to make small donations that collectively cover the fee. The composer acknowledges all of the commissioners in the score, and they have the satisfaction of knowing they helped create a piece of music, and support the musical culture we need for finding our own Mozart. With a single performer, or multiple involved in the commission: these musicians or ensembles will usually have the right to all performances or recordings of the new piece for a set period of time, to be negotiated with the composer.
Another is to apply for grants. Grant-writing is a skill unto itself. I've been lucky to have been awarded some grants, and I enjoy helping a potential commissioner write them. Grants, however, can never be considered a sure thing. Nationally-competitive—much less internationally-competitive—grants are few in number, and extremely difficult to obtain, to say the least. That's not a reason not to try, but it's best to have appropriate expectations. Regional or even local-level grants are a bit easier. The commissioner should plan on putting in some time to research what is available at the state or local levels, from private as well as publicly-financed arts organizations, and perhaps consider a workshop or webinar, or two, to learn how the process works (most such things are actually free). Most composers have some experience with this as well, like me, and are grateful to be involved! It's not easy, but it's worth trying.
Finally, the approach few especially like: directly asking people with money for money. It's important to be willing to give this a try, after all the commission can be about your own career, ambitions, or interests as much as those of the composer. The worst thing is that you'll be told "not interested," and that's that. It is what it is; no one gets hurt. Start with family and well-off friends and acquaintances. Whether they say yes or no, see if they can recommend someone else who might be interested.
---
DECIDING ON THE SIGNIFICANCE OF THE COMMISSIONED PIECE
For all of these ideas, it is important to start out with a clear understanding as to why you want the commission. Marking occasions can be a good idea, for example, a graduation recital, a special celebration, or an anniversary or any commemoration of a specific event. Then, make concrete plans for what happens with the new piece after the concert: future performances, tours, recordings, web presentations are all good, especially if they're likely to have significant visibility, where the new piece can get noticed by more people, such as at a conference. People want to know that what they're supporting with their capital has a chance to be something significant, to you of course but also the musical culture we keep talking about.
And of course, very important: why is this composer in particular someone you want a piece from? The composer doesn't have to be famous, widely recognized, or have a solid career already. In fact, in can be pretty exciting to be part of someone's early career, before they get famous, or even if they never do. And let's not forget the part about supporting a musical culture in general! It's important to have some concrete reasons about why you've chosen the composer, starting with why you like their music, why they're an important person to you, and why you support their career. The reasons can be very personal; in fact, that can be persuasive in itself.
The important thing is: don't give up with a rejection or two, or many! And it gets easier the more you do it, so do it more than once.
---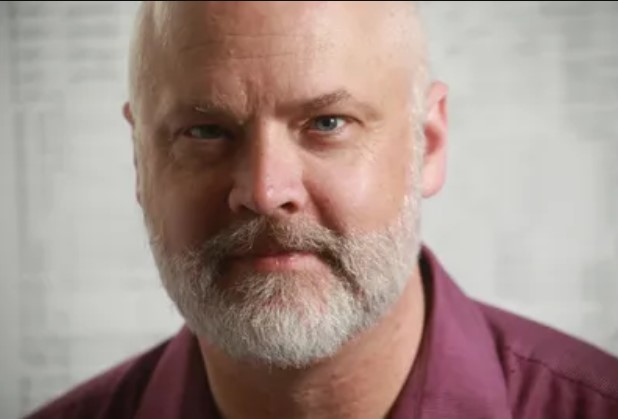 Ryan M. Hare, composer and bassoonist, was born in Reno, Nevada in 1970, and now lives in Pullman, Washington. He earned tenure and the rank of full Professor at Washington State University, where he taught composition, bassoon, and music theory from 2003 until 2020, when he decided to take a voluntary early retirement in order to focus his attention on composing. You can find his website at RyanHare.com
Ryan's music has been performed at a large variety of venues and festivals, in as diverse locations as Tokyo, Japan, and Darmstadt, Germany, as well as Southeast Asia and China. Commissioners include Fred Korman, longtime former principal oboist of the Oregon Symphony, and the Washington Music Teachers Association, who awarded Ryan "Washington State Composer of the Year" in 2012. Further commissions have come from the Walla Walla Symphony, Mid-Columbia Symphony, Washington Idaho Symphony, Common Tone Arts, Affinity Chamber Players, the University of Idaho Vandaleers Concert Choir, and the Lake Forest College Orchestra, among others. His music has been championed by numerous other well-known performers and ensembles around the world, with notable recognition from New Music USA, Artist Trust, and the American Prize. In addition, a number of Ryan's compositions are published by TrevCo Music Publishing and ALEA Publishing.