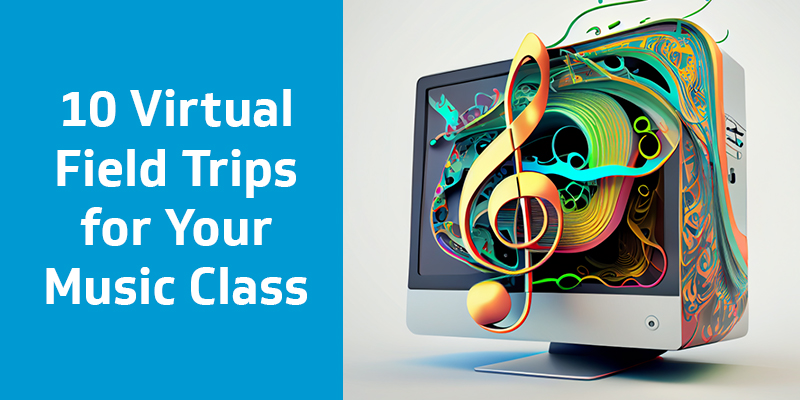 Virtual Field Trips are a fun way to introduce students to music history, unusual instruments, diverse performances, and a wide range of musical styles. They work well on "down" days, when you've just finished up a concert, and they can also be used as easy sub plans for when you have a non-music sub.

We've collected 10 of our favorite resources for virtual field trips below. There is something here for all age levels and music subjects, from general music to high school ensembles. If you have a favorite virtual field trip resource that we missed, share it with us in the comments, we'd love to hear about it.

If you find this resource helpful, we'd love it if you would share it with your friends and colleagues online, or on social media. Thank you!
---
THE KENNEDY CENTER EDUCATION VIRTUAL PERFORMANCES
WHO:
The Kennedy Center produces "virtual performances" for ages 3 and up, but most are geared toward elementary aged students. Teachers will need to register for upcoming performances, but there are also some on-demand video performances as well.

In addition to these performances, The Kennedy Center hosts a large library of high quality educational videos for all grade levels, on topics ranging from Hip Hop culture to Great Composers and everything in between. These can be found in their Digital Resource library here: https://www.kennedy-center.org/education/resources-for-educators/classroom-resources/collections/

WEBSITE: https://www.kennedy-center.org/education/resources-for-educators/classroom-resources/virtual-performances/
"Engage your students with the arts and artists from Kennedy Center Education through our growing collection of on-demand virtual performances, presentations, and events."
COST:
Pre-recorded and on-demand performances – FREE
---
MUSICAL INSTRUMENT MUSEUM
WHO:
The Musical Instrument Museum (located in Phoenix, AZ) offers virtual field trips via on-demand video series for grades K-12. Videos come with activities and educator guides, some with a STEM focus.

WEBSITE: https://mim.org/virtual-education-programs/
"Each field trip video collection is designed to support a dynamic learning experience for students to explore world cultures, discover MIM's galleries, and create music through 50+ minutes of tour videos and activities. Educator guide with standards is included!"
COST:
Starting at $3/video or $12/collection for stand alone videos of museum displays
Cost per virtual field trip video collection:
$75 per classroom
$200 per school (3+ classrooms up to 500 students)
$1,000 per district (501+ students up to a full district)
Free access may be available to students from Title I schools and programs
---
MUSEUM OF MAKING MUSIC
WHO:
The Museum of Making Music offers pre-scheduled virtual field trips for grades K-5, including STEAM focused options such as "The Science of Sound" and "The Language of Music."

WEBSITE: Virtual Field Trip (museumofmakingmusic.org)
"You're invited on a musical journey through the Museum of Making Music! The Museum's Virtual field trip program includes a tour of the Museum galleries (K-3) as well as three STEAM Units (1-5), and support documents for your classroom."
COST:
Virtual field trips are available to individual classrooms for $25 or $50 per grade level or $150 per school site.
---
INSIDE THE ORCHESTRA
WHO:
Inside the Orchestra for Schools offers pre-recorded, hybrid, and live virtual field trips for grades K-8. Topics include a tour of the orchestra, high and low instruments, musical storytelling and more.

WEBSITE: Virtual Field Trips – Inside the Orchestra
"No field trips? No problem. Virtual Field Trips will bring music and art directly to you and your students! Programming carefully designed by professional musicians and educators to optimize the child's experience. Inside the Orchestra won "Best Classical Music Education in Denver" for virtual programming in 2020."
COST:
Pre-recorded virtual field trip – $50
Hybrid virtual field trip – with pre-recorded videos and live host – $80
Fully live virtual field trip – guided session with musician – $120
---
COUNTRY MUSIC HALL OF FAME
WHO:
The Country Music Hall of Fame offers both live and on-demand virtual field trips for grades 2-12. To access the on-demand field trips, you will need to fill out a "registration" and the links will be sent to your email address once you submit the form. For more information about "live" virtual field trips, you can email [email protected].

WEBSITE: https://www.countrymusichalloffame.org/learn/distance-virtual-learning
"All virtual programs and supporting lesson materials address Tennessee and national education standards, with a focus on Fine Arts/Music, Social Studies/History, English Language Arts, STEAM, and Social and Emotional Learning."
COST:
Pre-recorded virtual field trip – FREE
Fully live virtual field trip (led live by museum educators) – $125 and up
---
LINCOLN CENTER: CONCERTS FOR KIDS
WHO:
The Lincoln Center has a fantastic library of on-demand concerts tailored especially for students. They are shorter performances (around 30 minutes) with educational introductions and information about the performance. Performing groups are very diverse and include dance, theatre, world music, vocal, instrumental and more. Many could be easily tied in with cross-curricular units.

WEBSITE: http://lincolncenter.org/lincoln-center-at-home/series/concertsforkids
"Lincoln Center for the Performing Arts is teaming up with a remarkable group of artists who will bring world-class performances and diverse musical perspectives straight from their homes to yours. We're excited to share these short performances recorded by the artists themselves."
COST:
Pre-recorded performances – FREE
---
MANHATTAN SCHOOL OF MUSIC
WHO:
The Manhattan School of Music offers a wide variety of virtual field trips, led by teaching artists. They also offer ensemble coaching virtually for choirs, concert bands, orchestras, chamber groups, jazz bands, and musical theater productions. Everything is booked through a third-party site called the Center for Interactive Learning.

WEBSITE: https://www.cilc.org/ContentProvider/ViewContentProvider.aspx?id=99
"With over a decade of experience in the field of distance learning and as the first conservatory in the nation to utilize videoconferencing for K-12 music education, Manhattan School of Music has adopted the key elements of presenting successful music education programs via videoconference. In addition to giving students access to world-class musicians and stimulating artistic perspectives, Manhattan School of Music ensures that the quality of videoconference transmissions are of the highest technical standards possible."
COST:
Prices vary depending on the program but they range from $100 to $300.
---
DELTA BLUES MUSEUM
WHO:
The Delta Blues Museum has a great collection of short (most are between 2 and 10 minutes) videos, virtual field trips, and interactive "explore and learn" programs. These could be used for any grade level with appropriate teacher involvement.

WEBSITE:
Field Trips and Virtual Tours: https://www.deltabluesmuseum.org/field-trip-tour.aspx
Interactive Educational Programs: https://www.deltabluesmuseum.org/explore-learn.aspx
"Since its creation, the Delta Blues Museum has preserved, interpreted and encouraged a deep interest in the story of the blues. Established in 1979 by the Carnegie Library Board of Trustees and re-organized as a stand-alone museum in 1999, the Delta Blues Museum is the state's oldest music museum."
COST:
FREE (they do accept donations on their website)
---
PBS LEARNING
WHO:
If you haven't already discovered the PBS Learning website, be prepared to lose track of time exploring all the available content. There are hundreds of educational videos on every topic imaginable, but just searching "music" will yield about 200 results. The videos are appropriate for a wide range of ages, so you will have to sift through to find what will work for your students.

Teachers can also create an account to gain access to additional lesson planning and organizational resources.

WEBSITE: https://pbslearningmedia.org/
"Bring the World to Your Classroom. Your local affiliate and PBS have curated FREE, standards-aligned videos, interactives, lesson plans, and more for teachers like you."
COST:
FREE
---
CENTER FOR INTERACTIVE LEARNING
WHO:
This is the same entity that was mentioned above in the Manhattan School of Music section. They also offer other virtual field trips hosted by a range of musical ensembles and organization. The site is expansive, so you'll need to search based on the age of your students, and your budget.

WEBSITE: https://www.cilc.org/Home
"CILC partners with world renowned museums, zoos, science centers, experts, and more, to connect individuals to live, interactive, virtual visits that inspire learning."
COST:
Pricing ranges from FREE to $300 depending on the program selected.
---