Love music, but don't know how to turn that into a career?
About the Webinar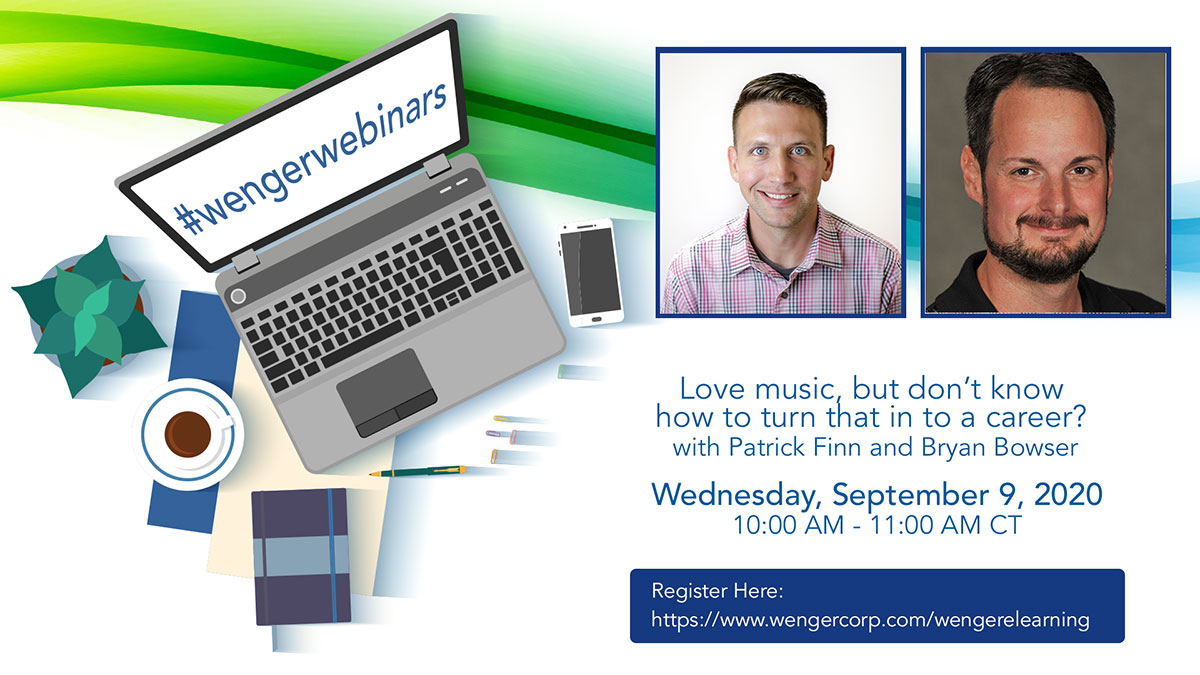 Presented by: Patrick Finn and Bryan Bowser

The music industry is far more broad than most students realize. In addition to performance and education there are rewarding careers in music production, business, therapy, and more if you know how to find them. Join us for a discussion on what opportunities exist in the music industry and how you can set yourself up for a career in these fields. This class is targeted at high school students and will be recorded for teachers to integrate into their classroom instruction.

About Patrick Finn, Performing Arts Product Manager, Wenger Corporation
Patrick studied music at Baldwin-Wallace University. After graduation he worked in opera and theatre production up and down the east coast. Prior to joining Wenger | JR Clancy in 2009, he worked as a theatre consultant designing performance spaces and rehearsal halls. He is now the Performing Arts Product Manager where he develops technical and equipment solutions to artistic challenges and works with designers to help bring their ideas to life.



About Bryan Bowser, Program Director and Assistant Professors of Arts Management & Entrepreneurship; Department Chair, Interdisciplinary Studies, Baldwin Wallace University
Bryan has a strong record of leadership in the Cleveland arts and non-profit community and is a passionate advocate for arts education and inclusion. Previously he served as associate director, external affairs, for the Baldwin Wallace University Conservatory of Music where he managed the community arts, summer music, and opera programs, in addition to consulting on matters of conservatory fundraising, marketing, student recruitment and alumni relations. Following three seasons as director of operations and development at Lyric Opera Cleveland, Bowser returned to Baldwin Wallace as director of the conservatory outreach department; he was appointed assistant director of the Conservatory in 2004 and assistant professor in 2015. He holds a Master of Business Administration in entrepreneurship and Bachelor of Music Education from Baldwin Wallace.


Please use the form below to request the webinar recording: