About the Webinar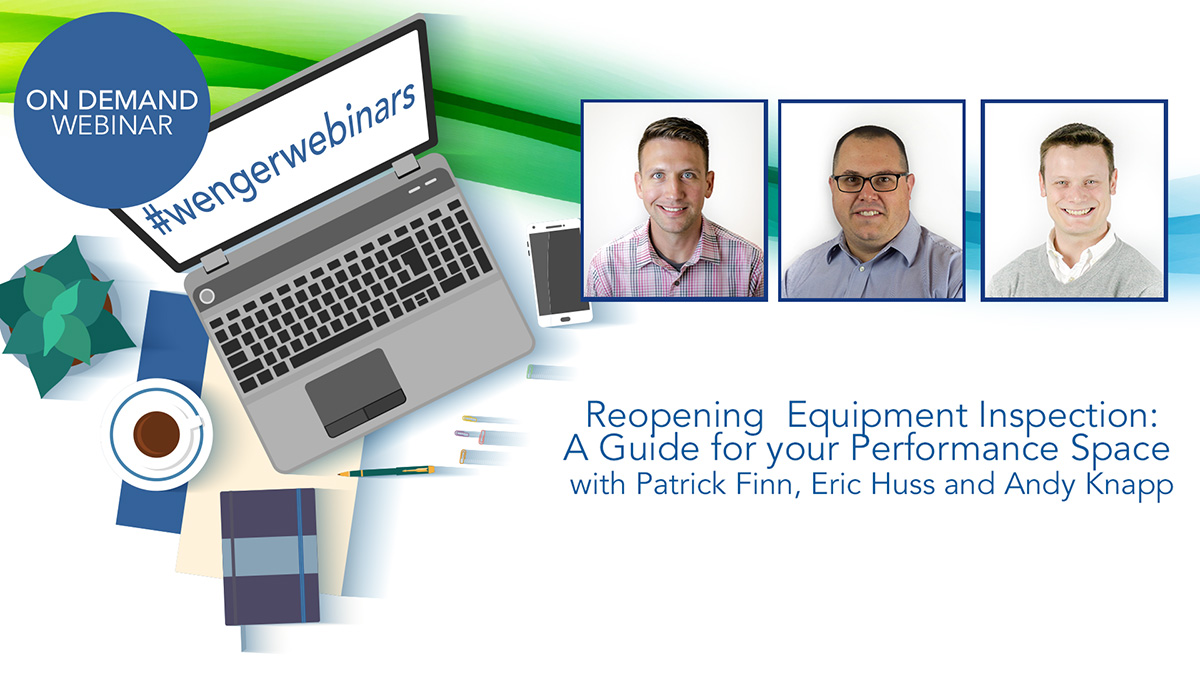 Presented by: Patrick Finn, Eric Huss & Andy Knapp

As performance spaces begin to reopen it is essential that we keep safety at the forefront. There are numerous reopening guides, resources and new safety protocol information available within the industry, and this course will specifically review inspection information for your theatrical equipment. From rigging, to seating, acoustical shells, pit lifts, lighting systems and production shops; join our panel as they discuss safety as theatres reopen.

About Patrick Finn
Patrick grew up in Ohio where he started working in technical theatre at a young age. In addition to educational theatre he spent his summers in high school working in the lighting and scenery departments of the local summer stock theatre company. He continued to work in theatre professionally throughout his college career at Baldwin-Wallace College. After completing his studies he proceeded to work up and down the East Coast at regional theatres and opera companies.

After a particularly rewarding experience with a renovation, Patrick became interested in and found employment in theatre consulting, where he used his experience working in theatre to help others design new and renovated performance spaces. In 2009 he joined with J.R. Clancy to provide rigging and performing arts equipment to venues across the country and the world. His current position as Performing Arts Product Manager provides him with the opportunity to develop technical and equipment solutions to artistic challenges and to work with designers to help their ideas come to fruition.

About Eric Huss
Eric joined Wenger Corporation in 2013 as a Systems Integrator. Prior to this he worked as a theatre consultant for seven years on a wide variety of projects. Most recently, while working for Artec Consultants, he worked on projects including Darat King Abdullah II Performing Arts Centre in Amman, Jordan; Dr. Phillips Centre for the Performing Arts in Orlando, Fla.; Grand Theatre du Bouregreg in Rabat, Morocco; and the Star Performing Arts Centre in Singapore. He also spent time as a project manager for a scene shop building sets for Broadway, cruise ships, and industrial shows around the world.

About Andy Knapp
Andy grew up in Syracuse, NY, where he discovered his love for theater in high school. He pursued Theater Arts Performance studies at Nazareth College where he ultimately focused on Lighting and Technical Theater. After completing his studies, Andy moved to New York City to pursue an internship in Lighting at The Juilliard School, which ultimately shaped the rest of his technical theater career.

For the next five years, Andy freelanced as a Master Electrician and Stage Electrician, working for The Metropolitan Opera, The Public Theater (including Shakespeare in the Park), NYC Fashion Week, and Saturday Night Live to name a few. He then worked in Production Management at The Public Theater for a number of years before returning to The Juilliard School as the Master Electrician of the Peter J. Sharp Theater, a 72 single purchase proscenium fly house. In December 2017, he relocated back to his hometown of Syracuse, NY, to join the Project Management team at Wenger Corporation's J.R. Clancy facility. His current position as Service Project Manager provides him with the opportunity to work with end users on annual inspections and renovation assistance while answering questions about their equipment.