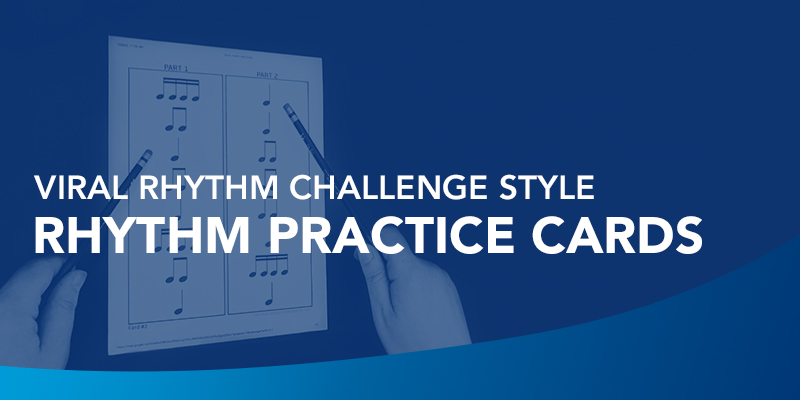 A quick and easy game to reinforce rhythm reading.
We've all seen the viral "rhythm challenge" on our social channels – or at least your students have. Everyone from tiny tots to professional musicians have tried it out and shared their success with the world via viral videos.
The basic idea is that the "performer" taps out the rhythm from top to bottom on the first column, with just one hand. Then they tap out the second column with the other hand. Then they tap out both columns simultaneously. This is done to the tempo of a backing track or popular piece of music.
Teachers can leverage the popularity of this trend to sneak in some rhythm practice and engage students with a fun and easy challenge!
---
In this download you'll find sixteen, 2-column, rhythm practice cards. They vary in difficulty, with some using one count rhythms, some are two count, and some are 4 count. You can choose to print (and laminate) these for each student, or display them on a projector screen for whole-group activities. Here are just a few ways you can use these cards in your classroom.
Have the cards already printed and located in folders or sitting on stands. Have a backing track playing as students enter the room. Once they are unpacked and waiting, they can practice tapping out the rhythms on the card.
Display one card on the projector screen and have students practice going through each column. Challenge half the class to tap out one column while the other half "duets" with them on the other column.
Hand out several different cards using the same number of counts (1, 2, or 4 counts) varying them by sections of the ensemble. Then challenge each section to tap out their rhythms, or try all the sections together for even more difficulty.
Let students "discover" ways to create contrasting percussive sounds using hands, body percussion, or available objects such as instrument cases, water bottles, or even clothing (zippers, velcro, etc.) Using several different versions of the 4 count cards, "orchestrate" a piece of music by combining all these sounds together on their assigned rhythm parts.
For instrumental students, challenge them to play up and down a specific scale using one scale note for each rhythm line or note.
Use the cards as a "Do Now" activity for the beginning of class, a quick and simple assessment, a fun game for "after concert" days, or an easy brain break in the middle of a long rehearsal.
---
Let us know how you used these cards in your classroom by leaving a comment or tagging us on social media.
Submit the form below to begin the download.